The first movie was so good that it makes this sequel almost unnecessary. Anyways, it has its good moments. The idea of foodimals is just great and perfect for classes in which the students have to work on people physical characteristics.
A. Write down the characteristics we use to describe people under the correct verb column. To Have or To Be.



HAIR
EYES
FAT
THIN
SHORT
TALL
CHUBBY
SLIM
ARMS
LEGS
HEAVY
MEDIUM-BUILT
B. Watch the movie segment and then descri
be the 'foodimals' (aka food animals) and charac
ters below, using the words in exercise A. Make sure you say, for example, how many eyes, legs, arms they have and their colors too.
Ex: It is a spider-hamburger. It has eight legs, etc
1. Fla-Mango
2. Barbs, the simio
3. Double Bacon CheesSpider
4. Flint Lockwood
5. Earl
Hippotatamos
Sam Sparks
Straw-Barry
Taco-dile Supreme
Bananostrich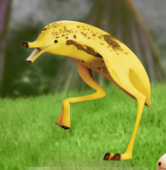 C. Draw
a

'foodimal' (aka food animal)

or m
onster. Be creative. Don't show it to anyone. Give it a name too.
Ex: Mosquitoast
It is thin. It has six legs and two toast (toasted) wings. It has two big black eyes and two short antennas.
D. Describe your drawing to a partner, but do not show it to him/her. Your partner draws what he/she listens.



E. When you both finish, show each other the original drawing and the foodimals your friend drew, based on your dictation. Check how similar they are.




Answer key:

Ex: A.


To Have:
He has ...
(Hair, Eyes, Arms, Legs)



To Be:
He is ...
(Fat, Thin, Short, Tall, Chubby, Slim, Heavy, Medium-Built)
WORKSHEET
MOVIE SEGMENT DOWNLOAD - CLOUDY WITH A CHANCE OF MEATBALLS 2